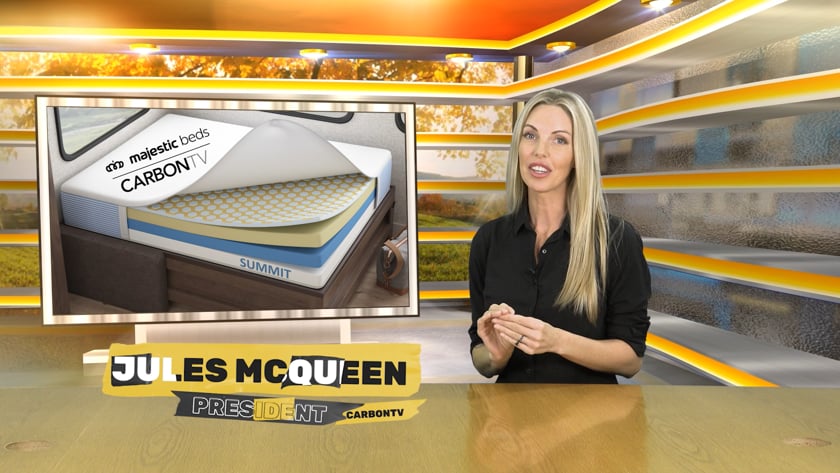 Motorhomes, campers, and overlanding vehicles are always evolving when it comes to luxury features, amenities, and custom builds. And that's a great thing for those who love living mobile and packing their days with outdoor adventure.
But there's one thing that hasn't changed much: the mattress you sleep on at the end of those days. 
That's why we decided to partner with CarbonTV and solve this problem for our mobile living fans. The Basecamp 4" Bunk Mattress is thin but insanely comfortable and was designed using the same materials and concepts as our full-sized Majestic Beds.
The Basecamp Bunk Mattress is compact enough to fit easily in your RV, camper, or overlander, and supportive enough to reduce pressure on your spine, joints, and muscles. 
Jackpot.
Whether you're hiking the Rockies, charging through whitewater rapids, or taking a family trip in the RV, you need restorative sleep to recharge for the next day.
But as mobile living adventurers know all too well, a fun day outdoors often ends in a rough night of sleep. And we're here to change that.
Our Basecamp mattress is only 4" thick, but it's packed with 3 important layers of our sleep technology to make it an incredibly comfortable mobile bed. 
Sometimes, great things do come in small packages.
The Basecamp mattress sleeps cooler than other "bed in a box" sleep surfaces, absorbing excess body heat without restricting circulation. 
No need to record your partner's motion – our technology reduces tossing and turning by up to 80%!
The mattress cover is made of four-way stretch poly-jacquard fabric, which is allergen-resistant and heat-absorbent. 
And last – but definitely not least – the mattress itself is antimicrobial, hypoallergenic, no-flip, anti-dust mite, and backed by a 10-year warranty.
*Weight: supports up to 260 lbs. per side. 
Basecamp 4" Mattress Reviews