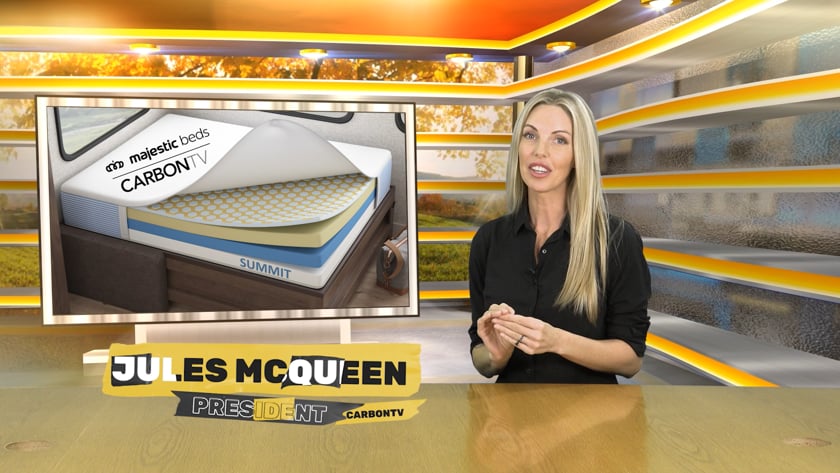 Motorhomes, campers, and overlanding vehicles can come with a number of luxury features, but it's no secret that the mattress is never one of them. 
So how can you truly enjoy a mobile lifestyle when you always feel stiff and fatigued from sleeping on a cheaply made bed?
More times than we can count, clients have told us they wish they could just take their Majestic Beds with them when they travel. We took that feedback to heart.  
We partnered with CarbonTV to design a mattress sized specifically for mobile living. The Peak is a revolutionary 6" mattress that rolls key layers of comfort into one incredible sleep surface.
It doesn't make a difference if you're rocking the old family camper, a new motorhome fresh off the lot, or something else. The perfect bed awaits.
Now, you really can take your Majestic Bed on the road with you.
Whether mobile living is part of your seasonal hunting tradition, helps you get away for the weekend, or simply supports your nomadic lifestyle, one thing holds true: you need comfortable, restorative sleep at the end of the day. 
Majestic Beds combined its sleep expertise with CarbonTV's years of outdoor experience to bring you the Peak RV Mattress. This 6" thick sleep surface combines 4 key layers of sleep technology to enhance pressure relief, stabilize and support the spine, and keep daytime adventurers cool all night long. 
Sleep better. Wake restored. 
The Peak Mattress sleeps cooler than any other "bed in a box" sleep surface, absorbing excess body heat without restricting circulation. 
Our technology also reduces tossing and turning up to  80%!
This no-flip mattress is antimicrobial, hypoallergenic, and anti-dust mite, and backed by a 10-year warranty. 
The mattress cover is heat-absorbent, allergen-resistant, and made from four-way stretch poly-jacquard fabric for superior protection.
*Weight: supports up to 260 lbs. per side.