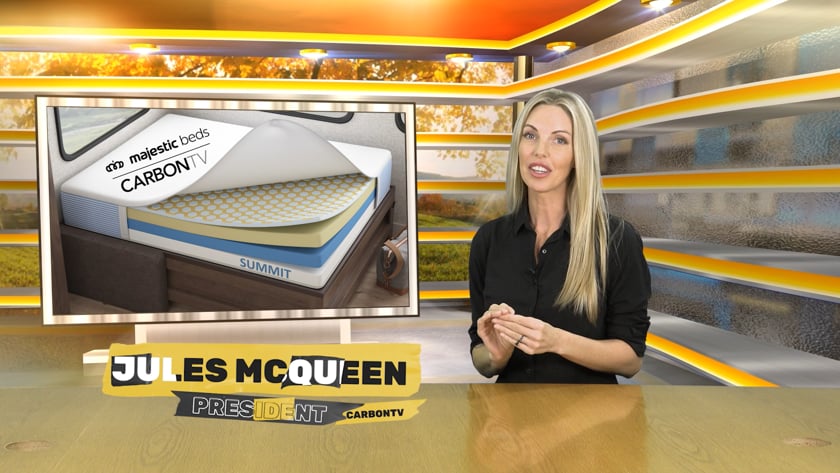 To support true recovery and restorative sleep, mattresses should:
Properly support the spine,

Reduce pressure on muscles and joints, and

Regulate body temperature all night long.

Most retail mattresses are lucky if they accomplish one of these things. 
Majestic Beds do all three. 
And now, in partnership with CarbonTV, Majestic Beds has successfully replicated these results for mobile living sleep surfaces!
With a Summit, you never have to pick between comfort and adventure. 
Welcome to the pinnacle of traveler's rest.
The path to a happier life starts with healthy and restorative sleep. We miss out on memorable adventures when we don't have a comfortable surface to snooze on at night. Instead of waking up rejuvenated and ready to go, we feel stiff and exhausted.
The price for a day of amazing outdoor experiences was an uncomfortable night of sleep…until now.
When you put an Adventure Series mattress in your mobile sleep space, you'll stop longing for your bed at home.
This mattress can help you sleep cooler than any other retail sleep surface and is proven to regulate body temperature while you rest.
It can also reduce tossing and turning by up to 80%.
Our four-way stretchable poly-jacquard fabric cover is allergen-resistant, and its cooling technology absorbs excess body heat all night long. 
The no-flip, hypoallergenic, antimicrobial, and anti-dust mite mattress is backed by a 10-year warranty. 
*Weight: supports up to 260 lbs. per side. 
Summit 7" Mattress Reviews